Gearbox Type:
Hardened Surface Gearbox
Roller Motors:
7.5kw X 4sets
Feeding Motor:
11kw Servo Motor
Transport Package:
Standard Sea Freight Packing
Product Description:
4ft Spindleless Veneer Peeling Lathe Machine With Servo
Technical Specification:
| | |
| --- | --- |
| Model No. | BX1400A-6 |
| Max Peeling Length | 1300mm  |
| Knife Length | 1400mm |
| Max Peeling Diameter | φ360mm |
| Left Log Diameter | φ28mm |
| Peeling Thickness | 0.6-5.0mm |
| Peeling Speed | 10-80m/min |
| Motor For Rollers | 7.5kw x 4 sets |
| Motor For Feeding | 11kw Servo Motor x 1 set |
| Control System | Inverter + PLC |
| Knife Table Material | Cast Steel |
| Gearbox Reducer Type | Hardened Surfacer Gearbox Reducer |
| Dimension | 4000x2100x1300mm |
| Weight | 6000kg |
Key Features:
1. Heavy duty spindleless peeling machine, fit for eucalyptus ,rubber wood etc hardwood logs.
2. Servo motor for feeding and servo drive control ,accuracy and service life is better than normal motor and normal inverter drive.
3. Knife carrier made of cast steel,much more stronger than welding structure,will not deform
4. Each side two screw nuts,front and rear screw nuts,which makes the feeding more stable and balance is better,and the accuracy of veneer will be much better .
5. Hardened surface gearbox reducers are used for rollers and for feeding,stronger than cycloid pin wheel reducer.
6. 4 sets of 7.5kw motors are used to drive the rollers,which can suppler bigger torque and can peel different kind of hardwood logs .
7. Rollers are quenched and chrome plated,rigidity is better and harder , service life longer .
8. Rollers are controlled by big inverters , the speed adjustable from 0-80m, peeling thickness range 0.6-5.0mm
9. Roller bearing bracket open-design , convenient to change bearings .
Detailed Photos: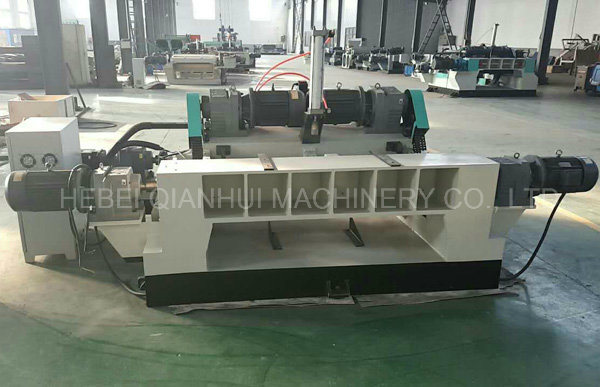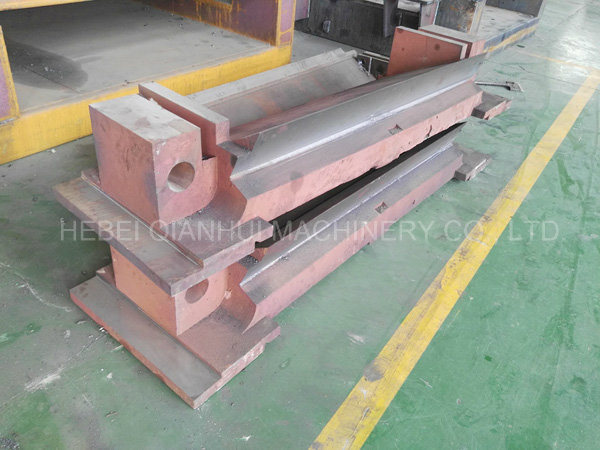 Cast Steel Knife Carrier,More Durable and Will Not Deform, So It Guarantee the Peeling Thickness Accuracy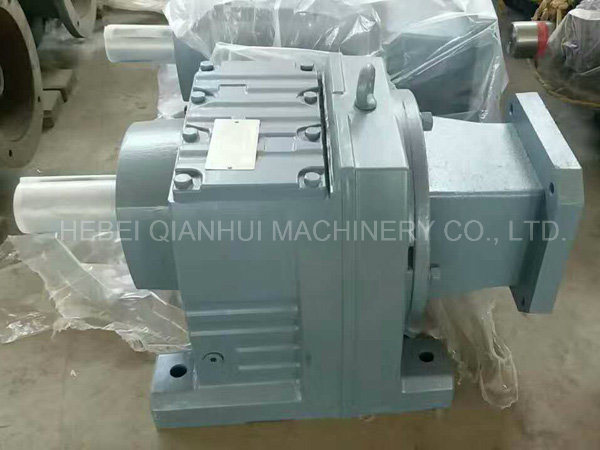 Hardened Surface Gearbox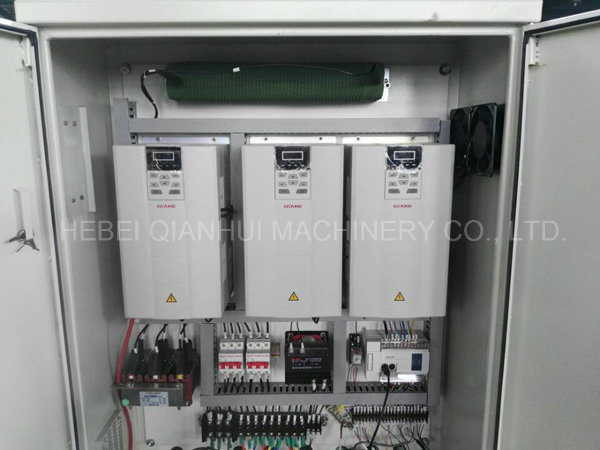 PLC+Inverter Controlling Feeding Speed and Roller Speed 10-80m/min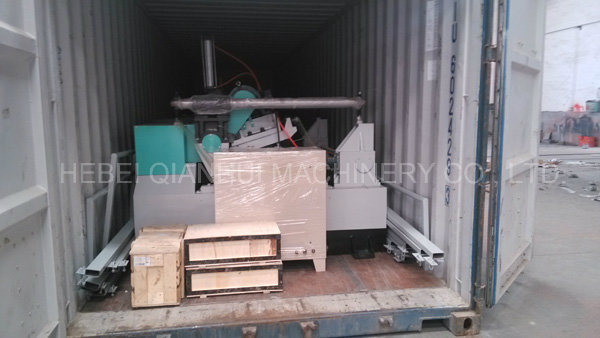 Loaded Into Container 
About Us:
We have been manufacturing and exporting complete sets of veneer and plywood machines since the year 1998 , with 20 years experience .Our products covering log cutting saw , log debarking machine,veneer peeling machine, veneer clipper ,veneer dryer machine roller type and hot press type, glue spreader,cold press,hot press,plywood trimming saw etc. Our machines are widely used in India,IndonesiaThailand,Malaysia,Cambodia,Burma,Laos,Russia,Ameria,Mexico,
Brazil,Paraguay,Colombia,Tanzania,Morocco etc,
We not only offer you plywood machines, we also teach you how to make glue and how to make plywood.We can send our engineers to your place to install machines for you and teach
your workers how to make plywood from wood logs
.
Contact Us:Â (7x24Hours In Service)
Qiaolan Jia /Â Sales Manager
Hebei Qianhui Machinery Co.,Ltd
Tel:86-319-7586599
Fax:86-319-7582869
Mobile: 86-13323090486Â 
Web:www.qhplywoodmachine.com
Address:Xingwan Industrial Estate, Xingtai ,Hebei Province, China
 
1. What is the a Flatbed Semi Trailer?
Flatbed Semi Trailer is usually used to transport 20ft or 40ft containers, they are mainly used for container transportation supporting ships, ports, shipping lanes, highways, transit stations, bridges, tunnels, and multimodal transport.
Use platform trailers to transfer cargo at the shipper`s warehouse. Unloaded to the consignee`s warehouse, when changing trailer or boat on the way, there is no need to take the goods out of the box and change them.
The size of the container trailer loading area is determined according to the standard container size.A twist lock device for fixing the container is provided at positions corresponding to the four corners of the bottom of the container. Flatbed trailers are a special trailers for transporting containers.
2. What is the common types of container carrier trailers?
Common flat top semi trailer has four types according to the number of axles, which are the 2 axle 40 foot flatbed semi trailers, 3 axle 40ft flatbed trailers, 4 axles 40 foot flat platform truck trailer, and the single point suspension logistics trailer.
According to the different types of transport containers, there are 4 types, 20ft container carrier trailer, 40 foot Shipping Container Trailer, 45ft commercial flat body trailer, and 20/40ft multi-purpose utility trailer.
we can also offer the 48ft, 53ft and other flatbed trailer sizes.
3. Shipping of container flatbed trailers and marine transportation
When transporting flatbed trailers, many customers use container transportation, which has low transportation costs and short transportation time. But the bad thing is that the rear of the platform semi trailer needs to be composed.
Some customers are bulk carriers or ro-ro ships. CHVM commercial flatbed trailers will spray wax and cover the tarpaulin when the cargo ship is bulking.
4. Flatbed semi trailer buying guide
Container flatbed semi trailers can be produced by all factories. When choosing a supplier, many customers do not understand the differences between container flatbed.
The easiest way is to look at the weight. The heavier the weight of flatbed trailers, the better the quality. The tri axle flatbed trailers purchased by African customers self weighs is 7.1 tons. If the weight is only 6.5 tons, the cost of this trailer can save more than 1,000 dollars.
Here are a few more important points:
1. Working platform of container flatbed semi-trailer
The work platfrom is the main load-bearing part, which is composed of the main beam, side beam, cross beam, bottom floor, suspension and so on. The main beam should pay attention to whether the thickness is an international standard. The international standard for the main beam of a container flat semi trailer is 14/8/16 mm. The steel plate in the middle of the beam is made of Q345B manganese steel, the thickness is 8mm. Many unreliable suppliers will use 6mm main beam to save costs. But the carrying capacity was reduced by 26%.
2. Bottom floor of flatbed container trailer
Bottom Floor, many logistics trailer also can transport bulk cargo and other items. The bottom plate of the Titan high bed trailer passes the international standard 3mm thick checkered plate. If it use 2mm thick pattern plate or a 2.5mm bottom plate. It will cost less $ 700. Tri axle equipment trailer weight limit is 60ton capacity.
3. Axle of flatbed truck trailer
The axles of semi trailers for sale have three types: 13-ton axles, 13-ton axles, and 16-ton brake system axles, 16-ton axles.
The axle of the CHVM container flatbed semi trailers is a 13-ton axle and 16-ton brake system axle, which has better braking performance and shortens the braking distance by more than 5 meters.
4. Tire of flat deck trailer
The 3 axle flatbed trailer uses a vacuum tire with better heat dissipation performance, the model is 12R22.5.
CHVM flatbed container uses custom made tires in a tire factory, wear-resistant tires. On Chinese highways, Titan tires can reach more than 300,000 kilometers.
5. Suspension of container flatbed trailers
CHVM flatbed trailers common mechanical suspension adopts special high strength steel. 6mm thickness. The center pin diameter is 70mm. Stronger than suspensions in many factories.
And we also have bogie suspension and airbag suspension for you to choose.
5. What is the manufacturing process of container flatbed semi-trailer?
1. Engineers provide drawings based on platform semi trailer data and customer requirements and then distributed the drawings to the workers in the production department.
2. According to the drawings of each part produced by the design department, use a CNC cutting machine to cut each part, such as the steel plate for the main beam and the reinforcing plate.
3. Welded container flatbed semi trailers work platform, welded side beams, main beams, welded kingpins, welded suspension, welded bottom floor.
4. Flatbed trailers derusting, frosting, spraying primer, spraying paint, wax spraying; installing axles; installing tires.
5. Print VIN code, waiting for packing.
6. How to load and securing a shipping container on a flatbed?
You can use container tipping tilt chassis trailer, it can load by self.
You can use container side loader trailer.
You can use container lift fork.
Flatbed Semi Trailer
Flatbed Semi Trailer ,Container Semi Trailer,Flat Bed Semi Trailer,Container Truck Trailer
Liangshan Changhong Special Purpose Vehicle Manufacturing Co., Ltd. , https://www.chvehicles.com