Artificial climate chamber is an important equipment widely used in various fields of medicine, biology, agriculture, etc., and people can use it to create the ideal environmental conditions need to shorten the test cycle-related research studies, and therefore artificial climate chamber is a lot of environment-related agriculture The standard products in the study are commonly used for the determination of plant germination rate, plant culture, and the like. In general, the artificial climate chamber under normal working conditions, can achieve heating, humidification and other functions, and humidification and if done by a humidifier, but if not properly humidifying artificial climate chamber, then does it mean humidifier bad What? Still caused by other reasons.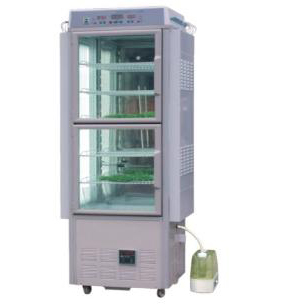 First of all, to see whether the artificial climate box can be humidified normally, it is generally viewed from the artificial climate box humidification indicator light, but the indicator light is bright, does not mean that it can normally humidify, so it needs to analyze the situation. In the first case, when the humidification indicator light of the artificial climate box is lit, there is no fog. At this time, it is necessary to determine whether the humidifier itself has malfunctioned. In the second case, the humidification indicator of the artificial climate box is not good or misty. The fuse is broken and needs to be replaced in a timely manner. The third case is that the artificial climate chamber humidification indicator is bright, but there is fog and no wind, that is, the fog is weak. The most likely reason is that the fan has failed; In this case, the humidification indicator light of the artificial climate box is bright, but if there is wind and fog, there may be scaling of the transducer chip, which must be cleaned with a soft hand brush.
Also note that other causes will not normally result in a climate cabinet humidification, such as water tanks and so on, so in order to avoid artificial climate chamber caused by this situation is not normal humidification, before turning on the artificial climate box, be sure to check the water Adequate. Of course, the artificial climate box cannot be humidified normally or it is completely a problem with the humidifier. It may be due to the accumulation of water in the plastic hose, causing obstruction. Therefore, in the ordinary maintenance work, remember to adjust the direction of the tube or timely. Replace the hose to ensure that the artificial climate chamber can be humidified and maintain the constant temperature and humidity in the cabinet.
Hand Saw,Metal Saw,Foldable Saw,Wood Cutting Saw
NINGBO LUBAN ELECTRIC POWER TOOLS CO.,LTD. , https://www.aye-group.com